The COVID-19 vaccine is being rolled out across Indiana and as it becomes available we encourage everyone to schedule a time to get their shot.
We know that there are still questions some have regarding the safety and efficacy of the COVID-19 vaccine. Here are some answers to a few questions provided by the Centers for Disease Control.
Can I catch COVID-19 by taking the COVID-19 vaccine shot?
The answer to this is "NO". None of the vaccines being used, or in development, contain the live virus that causes COVID-19. This means that the COVID-19 shot cannot make you sick with COVID-19.
All the vaccines teach our immune system to recognize and fight the COVID-19 virus. Upon receiving the shot it is possible that some of the symptoms of COVID-19 may appear, like fever and body aches. This is normal and a sign that your body is building the necessary protection it needs to prevent COVID-19.
It typically takes a few weeks for your body to build immunity and be fully protected from the virus.
Will I Test Positive for COVID-19 After Getting the Vaccine?
Again, the answer is "NO". Receiving the vaccine will not cause you to test positive on a viral COVID-19 test. Once your body develops immunity there is a chance to test positive on some antibody tests.
If You Have Had COVID-19, Do You Need to Get Vaccinated?
Yes, you do. Because of the severe health risks associated with COVID-19, it is important that you get the vaccine, even though your body has built up some natural immunity. It is not known for how long natural immunity lasts, so receiving the vaccine provides another level of protection.
Will the COVID-19 Vaccination Protect Me from Getting Sick from COVID-19?
Yes, it will protect you from getting sick with this disease. The COVID-19 vaccination works by teaching your immune system to recognize and fight the virus that causes COVID-19.
It is important to be vaccinated, because even though many people who contract COVID-19 have only mild symptoms, others may get severely ill, have long term effects, or even die. As of February 4, 1500 Hoosiers have succumbed to COVID-19. There is no way to know how COVID-19 will affect you.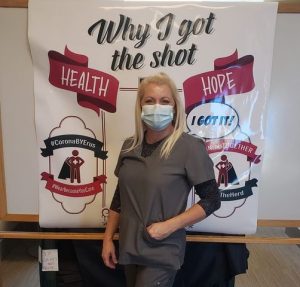 Vaccinate with Confidence
As the owner of Blackbird Clinical Services I just received my second COVID-19 vaccine shot. As someone who works closely with people to provide clinical services, it feels good to have received the vaccine and know that I am 95% protected against the COVID-19 virus.
When making your decision to get vaccinated, it is important that you separate good information from bad. It can sometimes be difficult to know which sources of information are trustworthy. We highly recommend checking the Center for Disease Control's website for the most up-to-date and accurate information.