It's that time of year again, when the kids are back in school and adults are inside more and in closer proximity to their co-workers, all of which expose our family members to an array of viruses. So when you hear that first sniffle and sneeze, or raspy cough, how do you know if your family member is coming down with a cold or the flu?
What is the difference between a cold and the flu?
The flu and common cold are both respiratory illnesses caused by different viruses. Because the two illnesses have similar symptoms, it can be hard to tell between them based on symptoms alone. Colds are generally milder than the flu and generally do not result in serious health problems. The flu can have very serious associated complications.
Flu symptoms can include fever and chills, cough, sore throat, runny or stuffy nose, muscle or body aches, headaches and fatigue. Individuals with colds are likely to have runny or stuffy noses and many of the same symptoms of flu, but generally milder. It is important to note that not everyone with flu will have a fever.
Flu Complications
Young children, adults 65 and older, pregnant women and persons with certain chronic medical conditions are at a higher risk of serious flu complications possibly requiring hospitalization. Complications can include sinus and ear infections, and more serious illnesses like pneumonia, especially with those with chronic lung disease or other respiratory conditions.
Steps to Fight the Flu
The CDC (Center for Disease Control) recommends that everyone 6 months of age or older get a flu vaccine by the end of October.

Young children, pregnant women, those over 65 years of age, and anyone with chronic health conditions like asthma, diabetes or heart and lung disease, are at a higher risk for serious flu complications and should be vaccinated.
Healthcare workers and others who care for high risk patients and infants should be vaccinated to prevent them from spreading the flu to these vulnerable populations. See more recommendations at Caring for Someone Sick.
If you become ill with flu symptoms, the CDC recommends staying home for at least 24 hours after your fever is gone. Try to avoid contact with others when you are sick and cover your nose and mouth with a tissue when you cough or sneeze. Discard the tissue in the trash. You can find more details at Taking Care of Yourself.
Take flu antiviral drugs if your doctor prescribes them. Antiviral drugs are different than antibiotics and are prescription medicines that are not available over-the-counter. These drugs can make the illness milder and shorten the time you are sick. For those with high risk factors, antiviral drugs may prevent serious flu complications.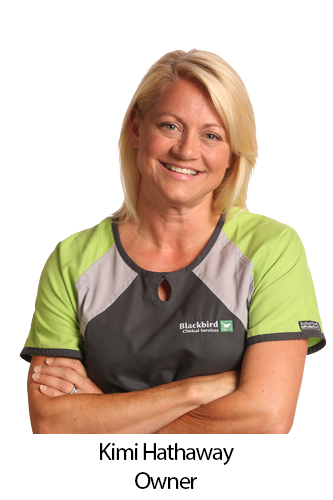 Blackbird Clinical Services Offers Low Cost Flu Shots
It is easy and fast to get your flu shot at Blackbird Clinical Service's office located off S.R. 26 at 2 Executive Dr., Suite D, Lafayette, IN. You can call for an appointment or just stop in. Cost for the Quadravalent* vaccination is just $27. Sorry, but we don't accept insurance for these shots.
To Receive More Details
We are happy to answer any questions pertaining to flu shots. Please give us a call at 765-447-8700, or send me an email at [email protected].

*The Quadravalent vaccine protects against the A H1N1 virus, A H3N2 virus and two B viruses. This vaccine provides broader protection against circulating flu viruses.